Keratoconus Contact Lens Fittings
There is no one type or design of contact lens that is best for every type or stage of keratoconus (KC). The best lens for a Keratoconus contact lens fitting is the one that fits the best, is comfortable and maximizes vision.   An experienced optometrist will pick a lens by carefully weighting the best combination of vision and comfort while keeping the ocular health paramount.  A great deal of patience is required both on the part of the optometrist and the keratoconic patient. Dr. David Coward enjoys these types of contact lens fittings.
1.  Soft Lenses & Rigid Gas Permeable Lenses (RGP):
The role of soft contact lenses for a keratoconus contact lens fitting has changed dramatically in the past few years. This change is due to new designs where the latest technologies in silicone hydrogel materials and complex mathematics combine to offer comfortable wear and excellent vision. These work well for mild to moderate keratoconus.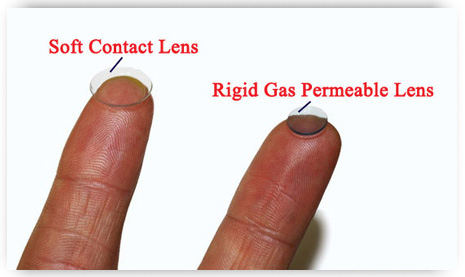 The problem with soft lenses though is that they bend and conform to the corneal surface.  In moderate to severe keratoconus, the cornea is so warped and distorted with irregular astigmatism that the soft lens does not work properly.  When this happens ridgid gas permeable lenses are deployed.  These stiffer lenses do not bend with cornea but instead create a new corneal surface.
2.  Hybrid lenses
This is a lens design combination that has an RGP center surrounded by a soft lens.  These are new within recent years and combine the best of both the hard lens and soft lens designs.  This option works well for moderate to severe cases of keratoconus.  The main type of lens used for this type of keratoconus contact lens fitting  is the Duette lens.  We have a Duette fitting set in our office and Dr. Coward is experienced and additionally trained to fit this type of contact lens.