There are so many things in the world that just make your head hurt.  Hopefully this article will not be one of them.  When headaches prevent you from working, stop you from sleeping, cause lights to be too bright or sounds to be magnified your day to day productivity will certainly wax and wane.  However, the question that is really important though is, "when should I really worry about the severity of my Headache".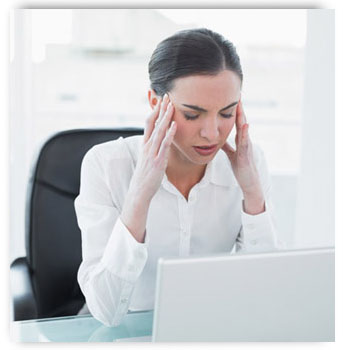 If it is Not Broken Then Don't Fix It!
This is really a very important saying that many health care practitioners use in their practices.  What does it mean?
If your headaches is the same as they have always been.  In other words over a long time frame, for instance the last year or two, the headaches that you get are the same frequency, the same severity, the same symptoms associated with the headache, the same treatment continues to work, then you are probably in pretty good shape.  However, if anything about your headache is "new", then you should really begin to worry a little bit.  Some of the worst things to worry about are the following:
New increasing Severity:  headaches should not make you vomit, they should not go from a low grade pain level to a high grade pain level.  A change of severity is serious and you should seek medical attention immediately.
Change in Associations:  If you normally get a headache and a small amount of light sensitivity that is not changing then OK.  However, if all of a sudden you get numbness, changes in sound or any other new association with your headaches, especially dizziness, seek medical attention immediately.
Increasing Frequency of Headaches or Pain Medications Stop Working:  Both of these can also be classed as "increasing severity" and should be taken seriously. Medications for pain should not stop working and if this happens, it is because the headaches are getting worse.
What Are the Doctors Really Worrying About Here?
Your head will not simply hurt for the sake of hurting, there has to be a reason.  We are always concerned with the underlying causes that are causing the headaches.  Three things are very often responsible for headaches that are changing and two of these issues can certainly kill you.  This is why headaches are serious in fact.
 High Blood Pressure – Increasing your blood pressure will often cause headaches.  Someone who is not being treated properly for high blood pressure will often present with headaches.  Untreated high blood pressure can lead to a stroke or heart attack.
Intracranial Mass – If there is something growing in your head, such as a tumor, a blood clot, or any other growth you will almost always get more frequent and severe headaches.  Obviously, if the mass gets to big it will kill you too.
Vision- Straining your vision will cause headaches that are in the front of your head.  These are easily treatable and are certainly not life threatening.  A good eye exam, by an excellent optometrist will correct this quite easily.  This can be corrected with contact lenses or Glasses during a routine eye exam.
 Is it Normal to Have Migraine Headaches?
Migraines are not normal.  In fact, most people are not diagnosed properly for this and simply assume that their headaches are migraines.  The truth, is that we cannot call a headache a "migraine", unless all other potential causes have been ruled out.  This therefore requires a thorough check of your blood pressure, MRI and or CT Scan, and a thorough vision evaluation.  If these all come back as normal, then you might call your headaches migraines.  If you have not been properly diagnosed, as just described, then you might consider reevaluating your headaches.
Conclusion
Like anything in your health, if you are worrying or wondering about it then get it checked.  Why leave a problem to chance when it may be easily correctable?  Headaches are serious and should be watched out for.  If it is changing in any way, if you are worried, seek medical attention immediately.  For more information visit us at http://www.optometriceyesitenc.com.