People who have allergies diligently seek treatment for their sneezing, sniffling, and nasal congestion. However, individuals often overlook ocular redness, itching, burning, and watery swollen eye lids. The good news is that many over the counter treatments can normalize the comfort of your eyes while also helping to clear out your nasal and sinus symptoms as well.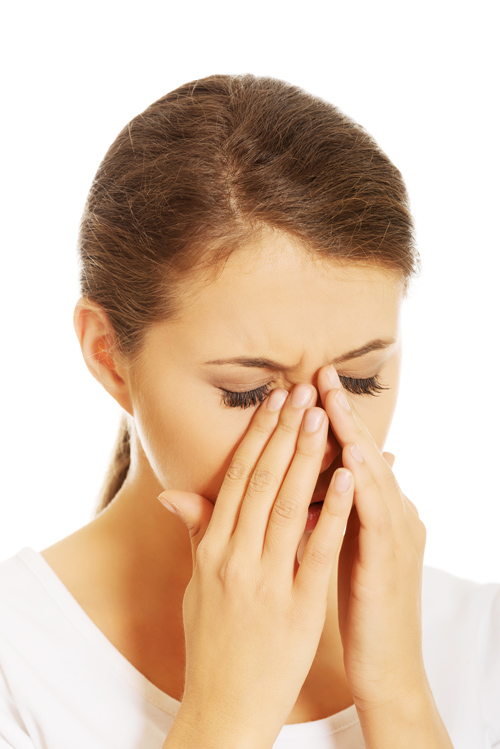 Eye allergies, also called ocular allergies or allergic conjunctivitis, affect one in five Americans. Though the symptoms they cause are often annoying — and unbecoming — they pose only a slight threat to your eyesight.  However, redness, itching, burning, and swollen eyes can also be caused by infections and or other conditions that can seriously threaten eyesight. This is why it is best to see your eye doctor for an eye examination to get the best recommendations and treatments.
What is an Ocular Allergy?
Just like any type of allergy, eye allergies are caused by a glitch in the body's immune system. The  problem begins whites of the eyes comes into contact with something that, while totally harmless, is perceived as a threat. In a attempt to fend off the threat, the immune system makes and releases histamine, antibodies and other substances which, in turn, makes the eyes red, itchy, puffy, and watery. The most characteristic symptom of eye allergy is itching. Eye allergy symptoms can happen alone or along with nasal allergy symptoms.
Over the Counter Treatments
1.  Naphcon-A is a brand of eye drops produced by Alcon Laboratories, Inc.  The two active ingredients in Naphcon-A are naphazoline hydrochloride (0.025%), a vasoconstrictor to eliminate redness of the eyes, and pheniramine maleate (0.3%),an antihistamine to stop itching.[2] It also contains benzalkonium chloride (0.01%) as a preservative. A prescription is not needed for Naphcon-A, but people should still use caution with it because the vasoconstrictor can exacerbate some forms of glaucoma.  However, when used twice per day under your eye doctor's direction this can certainly help with seasonal allergies.  A similar formulations is Visine-A.  Also note the "A" is important as it denotes that the formulation contains the antihistamine.  The antihistamine is the more effective part of the treatment for reducing the allergic symptoms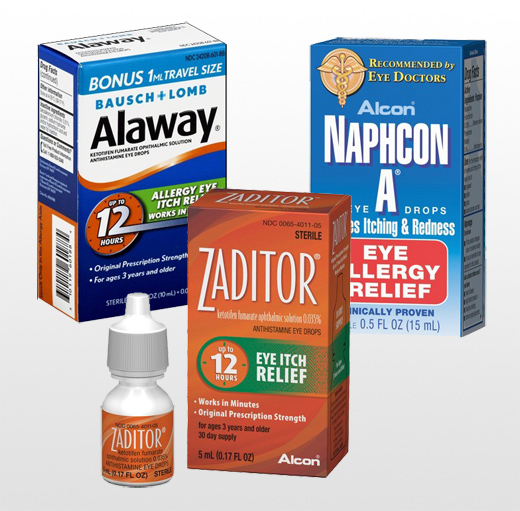 2. Alaway and Zaditor are made with Ketotifen which is a second-generation noncompetitive H1–antihistamine and mast cell stabilizer. In its ophthalmic form, it is used to treat allergic conjunctivitis. Alaway and Zaditor drops should be administered twice per day during the allergy season when a patient is suffering from seasonal allergies.  Ketotifen is better than Naphcon-A because it does not have the vasoconstrictor.  The issue with the vasoconstrictor is that it often has a rebound effect associated with it meaning that the redness rebounds when the treatment is stopped.  Alaway and Zaditor generally do not demonstrate any rebound of symptoms post cessation.  
3.  Combining Alaway with Naphcon-A – This can be done when seasonal allergies become quite severe. Combining over the counter treatments often can save money compared to more expensive prescription strength treatments, but knowing what and how to combine treatments is important and should involve your eye doctor.  Alaway and Naphcon-A have different mechanisms of action meaning they reduce allergies via slightly different routes.  By combining these treatments their individual effectiveness become additive for an even better reduction in allergic symptoms.  We definitely recommend involving your eye care physician with these decisions as they can help with determining when and how it is most appropriate to reduce these treatments or when more aggressive treatments with prescriptions may be best.